The Making of a Railway Artist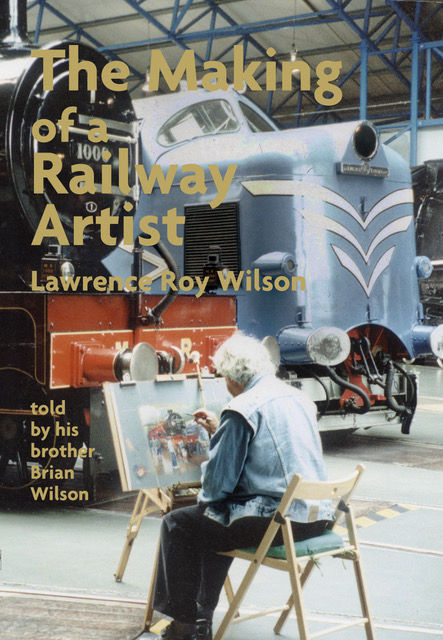 The Making of a Railway Artist - Roy Wilson told by his brother Brian Wilson
Vulcan Foundry at Newton-le-Willows, during its 170 years existence, gave birth to several thousand steam, diesel and electric railway locomotive that operated in most corners of the world in times of both peace and war. Less well known is the fact that Vulcan Foundry also helped to forge one of our most wonderful railway artists.
Local lad Lawrence Roy Wilson, left school aged 15 and entered the drawing office at the Vulcan Works as an apprentice draughtsman in 1941. It wasn't long before his supervisors recognised in him a flair for art and design and he was allowed to exchange his evening classes at the technical college for an art course at The Gamble Institute in St Helens. This led to the award of a scholarship to the Manchester School of Art. Three years of part-time study gained Roy a diploma in design which subsequently opened the door for him to a career in public relations and exhibition design which took him around the world.
Railways were very much in Roy's DNA. His father was a wagon builder at the Viaduct Works, his grandfather worked on carriages at the LNWR Earlestown works, and his cousin was an engine driver. Roy's own tasks in the drawing office had involved him in the feverish development and construction at Vulcan Works of the 'Liberation' class locomotives to support requirements for additional motive power in meeting the immediate needs of European and other overseas post-war transport operations.
Leaving Vulcan in the 1950s for new avenues of employment, Roy found opportunities for travel and greater time to pursue his own artistic interests. Illustrating railways and capturing the fascination they held for people of all ages became an absorbing hobby. Pastel became Roy's favoured medium which he embraced for its capacity to give texture and luminosity to the subject and allowed the use of rich, deep tones and colours.
Insights into Roy's understanding of his role as an artist are revealed in six Log Books covering years of his painting activities which his brother Brian discovered among Roy's effects after his death in February 2019. One page records several wise reflections on the artist's task: "The road to art is the way of trial and error." "Reality is only one part of art, the artist's feeling completes it . . . . if you have really been moved by a subject you will transmit your emotion to it." "Never be discouraged, and never be satisfied, either. Both are killers of progress."
The Log Books illustrate in precise detail the amount of planning and refinement that Roy applied to each and every scene and subject he was to commit to canvas: the perspectives, tones of light and shade, engineering detail, the people present and their movements.
The National Railway Museum at York was a favourite haunt for Roy in his retirement years. He was a Friend of the NRM and in 2002 the Museum hosted a major exhibition of Roy's work. Beverley Cole, then NRM Curator of Pictorial Collections remarked of Roy's work that "Roy's work is amazing. Not only are his paintings technically very good but they also capture people's moods and mannerisms in a very engaging way." The book cover shows Roy busy at his easel in the Museum during one of his days as their Artist-in-Residence.
Click Here for Printable Order Form
The Making of a Railway Artist - Click here to order your copy today